Using
LED high bay lights factory
is the best way to save money and energy while still providing the quality light that you need. They come in many different styles and are designed to last for years to come, and that's why they are so popular.Using UFO LED high bays is a great option for warehouses, factories, schools, and convention centers. They are lightweight, unidirectional, and offer maximum brightness. They are also ideal for large open spaces. These fixtures are designed to save you money on energy costs, eliminate the need for excessive maintenance, and make the most of your available space.When selecting a UFO high bay, make sure you get the right light spread and lumen rating. The watt and lumen output can vary from brand to brand. The best UFO high bay lights have optics that ensure even distribution of light. You will also want to choose a lens that is impact resistant.
JD-HB032 electrostaticspray processing Led highbay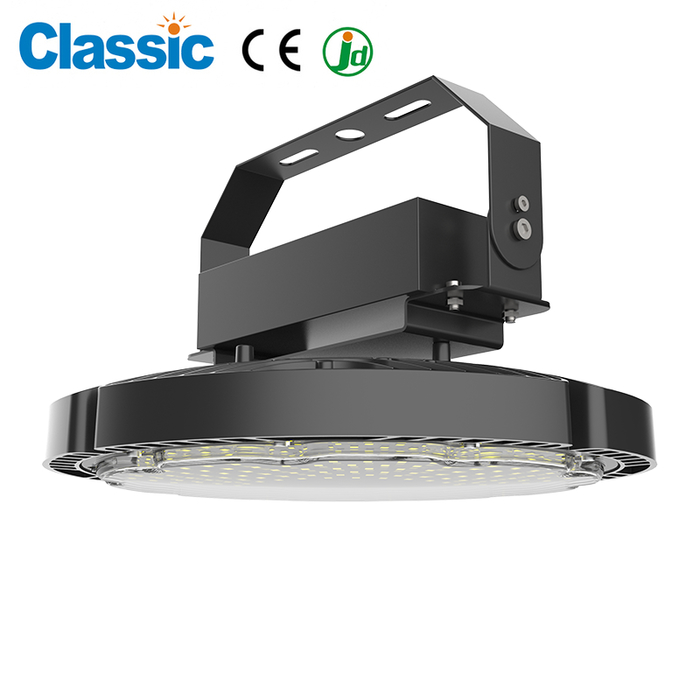 3030 or 2835 Leds+Meanwell
Driver/Sosen Driver
1.Modern fashion design of appearance,made the light become an artwork, Integrated with the
environment perfectly,to made is as top project.
Main material used in high strength aluminum die casting material,surface anit-ageing 
electrostaticspray processing,super resistance to corrosion.
60,90,75,100,120 degree lens available.
Input Voltage:AC110-277V,50/60Hz,IP65


If the space you are lighting is going to be subjected to high impact, you may want to choose a polycarbonate lens.Choosing the right LED high bay light is essential. There are many types and features that you should know about. It is best to consult an expert. This will save you time and money.The most commonly used mounting method is the suspension hook mount. This method is easy to install and requires little customization. It usually uses chains or cables to suspend the light from the ceiling.High bay lighting is often used in industrial or commercial facilities. It is common in storage warehouses, manufacturing plants, and large recreational facilities. They are also popular in public venues, such as arenas and sports stadiums.The main purpose of LED high bay lights is to provide clear, bright illumination. They have a fast start and respond time, along with a high quality light output.
They are a more economical alternative to conventional bulbs. They are also designed to eliminate glare.Choosing the right lighting for any industrial establishment can be tricky. It is important to ensure that the light is not glaring and evenly distributed throughout the entire premise. It also helps to improve productivity.When it comes to lighting, there are many options to choose from. For example, LED high bay lights are ideal for warehouses. These fixtures offer energy efficiency, a longer lifespan and lower maintenance costs.The benefits of using these lights include a higher lumen output, a shorter warm-up time and improved color rendering. The bulbs are also less harmful to the environment. They are also durable, so they are a better choice for locations with heavy machinery.Linear LED high bays are available in various sizes and voltages. They also come in a variety of colors.Choosing LED high bay lights to illuminate your workspace is a great way to save money on energy costs. This lighting solution is highly efficient, offers glare-free light and has a long service life.
LED high bay lights are typically hard wired into the building and feature industrial-grade die-cast aluminum housings. These fixtures are ideal for warehouses, manufacturing facilities and other industrial settings. Their frosted or glass designs make them highly resistant to water and dirt.Some high bay LED lights include selectable color temperatures or motion sensors, which may be helpful in selecting the appropriate lighting solution for your workspace. However, these solutions do not offer instant-on capability.HiPanel linear LED luminaries are available in eight wattages, delivering high lumen output and providing outstanding performance. They can be used to replace 2-, 4- or 6-lamp T5HO fluorescent fixtures.Choosing the right lighting for your industrial premises can be a challenge. LEDs provide the same benefits as conventional light sources, and are cost effective to purchase and maintain. They are also the right choice if your lights are on for extended periods of time.Choosing the right light can boost your productivity and reduce accidents. Choosing LEDs is the best way to achieve this. They are cost effective and can be retrofitted into existing fixtures.