Choosing the right
LED high bay lights
is a task that involves considering a number of different factors. These include color temperature, specifications, cost, longevity, and more.Whether you're looking for an efficient way to illuminate a warehouse, or you want to install a lighting system in your home office, LED high bay lights are a great choice. They are highly durable, energy efficient, and have many benefits.The cost of using LEDs to illuminate a space is often a fraction of the costs of using fluorescent or halogen systems. This is because LEDs have a long lifespan, require little maintenance, and can be disposed of in regular landfills.LEDs also have a number of other benefits, including their ability to help keep a space cool. They can help lower utility bills, and they're even beneficial for summer facilities.The best part about LED high bays is their longevity.
JD-HB032 electrostaticspray processing Led highbay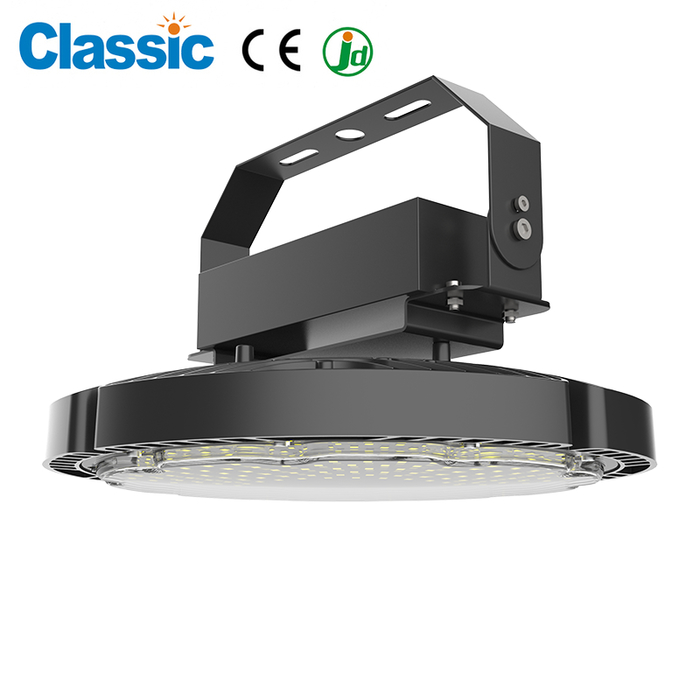 3030 or 2835 Leds+Meanwell
Driver/Sosen Driver
1.Modern fashion design of appearance,made the light become an artwork, Integrated with the
environment perfectly,to made is as top project.
Main material used in high strength aluminum die casting material,surface anit-ageing 
electrostaticspray processing,super resistance to corrosion.
60,90,75,100,120 degree lens available.
Input Voltage:AC110-277V,50/60Hz,IP65


Typically, they'll last for ten years or more, while halogen and fluorescent lamps have a much shorter lifespan.Using LED high bay lights is a great way to save money on your energy bill. They have a long life and provide more brightness than traditional lighting. They are also more durable.Choosing the right type of lighting for your industrial premises can be tricky. The best bet is to do your research. Choose a quality product that will not only improve the productivity of your staff, but also save you money in the process.The most obvious benefit of LED high bay lights is that they use far less electricity than conventional fluorescent or incandescent fixtures. They can save you up to 80% on your energy bills. This is particularly true in larger facilities.There are also several other ways that LED lights can improve productivity in your workplace. These include improved color rendering, better lumen maintenance, and reduced eye strain.Whether you are looking for high bay lighting for an industrial environment, a warehouse, or a commercial space, LED high bay light fixtures can provide you with the right lighting solution. These fixtures save energy, reduce maintenance costs, and offer a wide light distribution.
These fixtures have a lifespan of more than 50,000 hours, which means you won't have to worry about replacing them as often as you would with fluorescent or metal halide lighting.Choosing the right high bay light fixture for your space can be a daunting task. With so many different models, colors, and lumens, it can be hard to decide which one is the best fit. However, there are a few guidelines that can help you select the right type of lighting.Color temperature is an important factor to consider when choosing high bay lighting. Certain color temperatures work better for relaxation, worker efficiency, and setting a positive mood. For instance, 5000K is the most natural color temperature and is ideal for general illumination in commercial spaces.Choosing the right LED high bay lights for your business can be a tricky decision. It's important to know the differences between the various types of lighting, including the color temperature of each. The higher the Kelvin number, the more white the light will be. This is especially true in industrial and commercial buildings.There are a wide variety of linear LED high bay lights, all of which are made to last.
They range in wattage from 90 to 700 watts, and in Lumen output from 10,000 to 100,000. You can also choose between a four foot or six foot model. They come with a hook for easy installation.The color temperature of LED high bay lights can have a major impact on the atmosphere of a room. The color temperature of each fixture is different, based on the specific needs of the space. Choosing the appropriate lighting can improve productivity, save money on energy costs, and reduce maintenance and repair costs.Compared to other types of lighting, LED high bay lights offer more energy efficiency, greater productivity, and lower utility costs. They also provide brighter light and longer life spans. They are free from harmful materials such as mercury. They can be used in warehouses, gymnasiums, and factories.These fixtures can be mounted to a ceiling, pendants, or chains. They are designed to spread out the light to cover a large area. The lens angles and optics play a big role in how the light distributes.Some high bay lights have a wide beam angle for better coverage. In contrast, other fixtures have narrow beams to create a focused beam. These fixtures are also available in round and rectangular shapes.The choice of fixtures depends on the brightness required, the location, and the tasks to be accomplished. The type of lighting also impacts the safety and efficiency of operations.