LED flood lights
are used to light up sports fields, stadiums, parking lots and other large areas. They can also be installed in indoor spaces to illuminate them at night.They are energy efficient and have a long lifespan of over 50,000 hours. They can help reduce your electricity bill significantly.
LED flood lights are an energy-efficient alternative to traditional lights, reducing your electricity bill by up to 80%. They require less wattage than fluorescent and incandescent bulbs, making them the ideal choice for both residential and commercial applications.Unlike halogen or metal halide lights, LEDs don't waste any energy on heat, which means they're much more sustainable. They also don't need to be replaced often, which means you'll save money in the long run.They offer a wide range of light temperatures and beam angles to create a variety of lighting effects, so they can be used anywhere that needs to look its best. They're also dimmable, so you can use them to highlight certain features in your building or area.


LED flood lights have a long lifespan of 10 years or more, which is 3 times longer than that of traditional light bulbs. This makes them a good choice for outdoor lighting as they are not affected by environmental conditions like extreme temperature and weather changes.Besides, they are resistant to corrosion and rust so they can be used in places where there is moisture present on a regular basis. This makes them ideal for use in pools and fountains, as well as for locations exposed to heavy rain or snowfall during certain seasons.Aside from its longevity, LED flood lights also have excellent energy efficiency. They reduce energy consumption up to 80% compared to traditional lights such as metal halide and high pressure sodium lights.A LED flood light comes in a variety of wattages and lumens. Low lumens (1,000-4,000) are best for small applications such as staircases and walk ways, while medium luminosity (4,000-10,000) are great for yard, fields and exterior areas around buildings.


LED flood lights are a great way to brighten up your property without the high costs associated with traditional bulbs. They are energy-efficient, low maintenance and have a long lifespan.When choosing a flood light, it is important to consider its base, color temperature and mounting options. These can vary by manufacturer, but some common choices include Slip Fitter Mount, Knuckle Mount and Trunnion Mount.A knuckle mount allows you to position the flood light so that it casts illumination from side-to-side. This is useful for applications such as billboard lighting.It is also important to consider the lumens, wattage and color temperature of your LED flood light. This will help you decide whether or not it is right for your needs.The higher the lumens, the brighter the flood light will be. Typically, you will find LED flood lights operating in the range of 1,600-4,000 lumens are perfect for small outdoor areas. Those in the mid-range of 4,000-10,000 will be suitable for larger outdoor spaces around buildings and parking lots.


In addition to the energy-efficient and long lifespan features of LED flood lights, they also offer a number of safety benefits. These include a lower risk of electrical shock, reduced injuries and reduced workplace accidents.Another important safety feature of LED flood light is that they provide a brighter, more accurate color rendering index than traditional lighting. This makes it easier for workers to see what they're doing and increase their accuracy on the jobsite.In construction, safety is a top priority. LED flood lights are designed with the jobsite in mind and are tough enough to withstand harsh weather conditions. This means that they'll continue to give employees accurate lighting and help keep them safe on the job.
JD-F017 anodized pure aluminium reflector 10W /20W Led flood light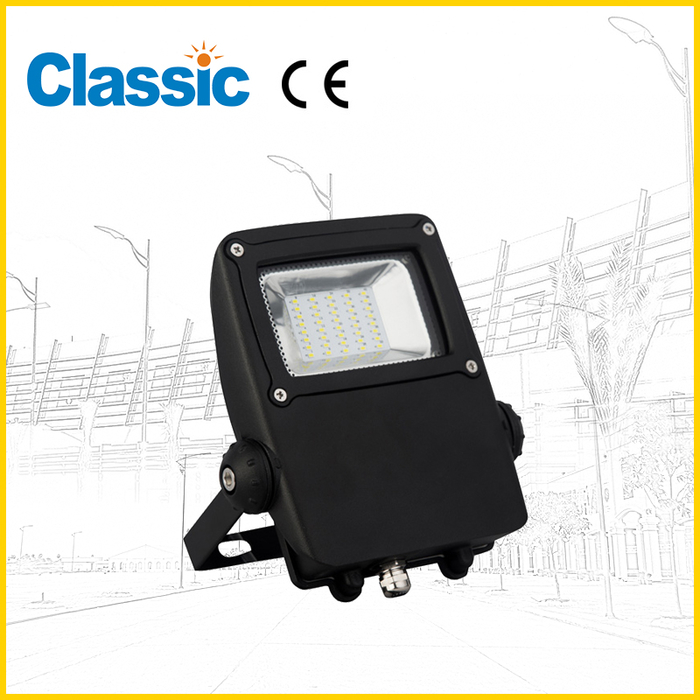 1.10W /20W LED flood light.
2.20pcs/40pcs 2835 Epistar led.
3.Super quality CE driver.
4.Anodized pure Aluminium reflector.
5.High transparent temper glass.
6.High intensity die-cast Aluminium body.
7.IK08
8.Protection grade: IP66
9.Sensor for choice.