LED street lights
typically have a lifespan of 50,000 to 100,000 hours. This means that they can last for 5 to 10 years or even longer, depending on how frequently they are used and how well they are maintained.
Compared to traditional street lights, which typically last for around 3 to 5 years, LED street lights have a much longer lifespan, which can help to save maintenance costs and reduce the frequency of replacements. Additionally, LED street lights are more energy-efficient and can help to reduce electricity costs and greenhouse gas emissions.
LED (Light Emitting Diode) street lights are a modern type of street lighting that use LEDs as their primary light source. They are becoming increasingly popular as a replacement for traditional street lights, which typically use high-pressure sodium or metal halide lamps.
LED street lights offer a number of advantages over traditional street lights. They are more energy efficient, using up to 80% less energy than traditional street lights. They also have a longer lifespan, typically lasting up to 50,000 hours or more, which reduces the need for frequent replacements and maintenance.
In addition to their energy efficiency and long lifespan, LED street lights also offer better lighting quality and visibility. They produce a brighter, more natural-looking light that can improve visibility and safety on the roads. They also offer more precise lighting control, allowing for better lighting distribution and reduced light pollution.
Overall, LED street lights are a cost-effective and sustainable solution for modern street lighting needs, offering significant energy savings and improved lighting quality and safety.
JD-1071 aluminum die casting material Led street light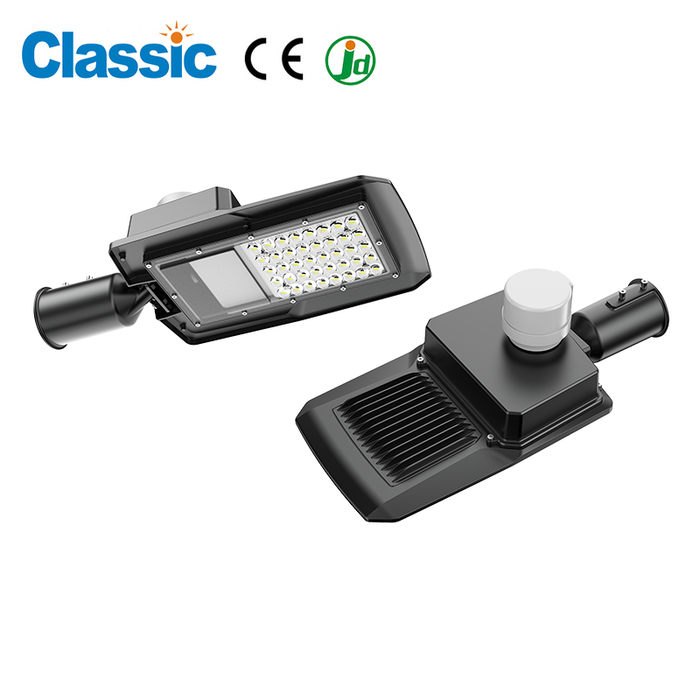 1.LED/Philip Lumiled 5050 or 3030
Driver:philip,Meanwell Inventronics
2.Aluminum die casting material,surface anit-ageing electrostatic 
3.spray processing,super resistance to corrosion. 
4.PMMA len cover,no glass
5.Input Voltage: AC100-240V, 50/60Hz, IP65, Ik08 
6.Windy area :115 ㎝2
7.Stainless steel screws
8.5 years warranty